We welcome back Wayne Sawchuck, an acclaimed author, intrepid explorer, and advocate for environmental conservation. Rejoining us since his insightful Episode 13,
Wayne offers an updated perspective on his wilderness adventures and ongoing efforts in conservation.
We Also dive into the pressing matter of 'Site C'. Wayne sheds light on this project, delving into its environmental implications and its role in the wider context of conservation.
A crucial part of our dialogue also revolves around the intersection of climate change and conservation. Together, we untangle the complex relationship between these two urgent issues, as Wayne offers his seasoned insights on the challenges at hand and the necessary steps forward.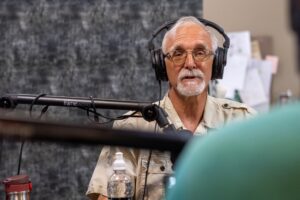 Join us for this compelling conversation as we traverse through wild landscapes, confront environmental dilemmas, and explore the heart of conservation with Wayne Sawchuck.
Whether you're an adventure literature enthusiast or an environmental advocate, this episode promises a wealth of knowledge and inspiration.
Links for topics of interest:
• Muskwa Kechika Camps And Trips Website: https://www.muskwa-kechika.com/
• Muskwa Kechika Book Through Munro's Books: https://www.munrobooks.com/browse/filter/t/Wayne%20Sawchuck/k/keyword
• Muskwa Kechika Book Through Amazon: https://www.amazon.ca/Muskwa-Kechika-Heart-Canadas-Northern-Rockies/dp/0968736351/ref=sr_1_1?crid=SF97EDSS4BE8&keywords=Muskwa+Kechika&qid=1684451586&s=books&sprefix=muskwa+kechika+%2Cstripbooks%2C140&sr=1-1
• Wayne Sawchuk Facebook Page: https://www.facebook.com/wsawchuk
• MK Video: https://fb.watch/kx1tYN9Sac/
• Land of Dreamer Documentary: https://gem.cbc.ca/absolutely-canadian/s21e13?autoplay=1