In this episode, we interview Aaron Gunn, an independent journalist and renowned political commentator, and Jason Gowda, a dedicated community activist.
Aaron Gunn, a Canadian independent journalist, gained recognition through his involvement in Canadian politics and his documentary series "Politics Explained." We discuss his motivations, recent documentaries, and challenges faced as an independent journalist and filmmaker.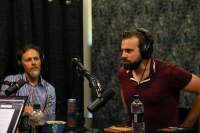 Jason Gowda is a member of the Citizens Take Action (CTA), a group dedicated to combating crime and holding local governments accountable. We explore the CTA's mission, engagement with government officials, and the impact they have made in raising awareness about theft-related issues.

Topics covered include ideological policies overlapping the opioid crisis, CTA demographics and engagement, personal growth and learning, approaches to address the crisis, the impact of documentaries, the influence of political views, running for BC Liberal leadership, career challenges, and future projects.
Join us as we delve into the journeys of Aaron Gunn and Jason Gowda, gaining valuable insights into their work, challenges, and aspirations.

Citizens Take Action. Dawson Creek, B.C. Website: https://www.dccitizenstakeaction.com
Canada Is Dying Full Documentary: https://youtu.be/_RaWzJUeT0o